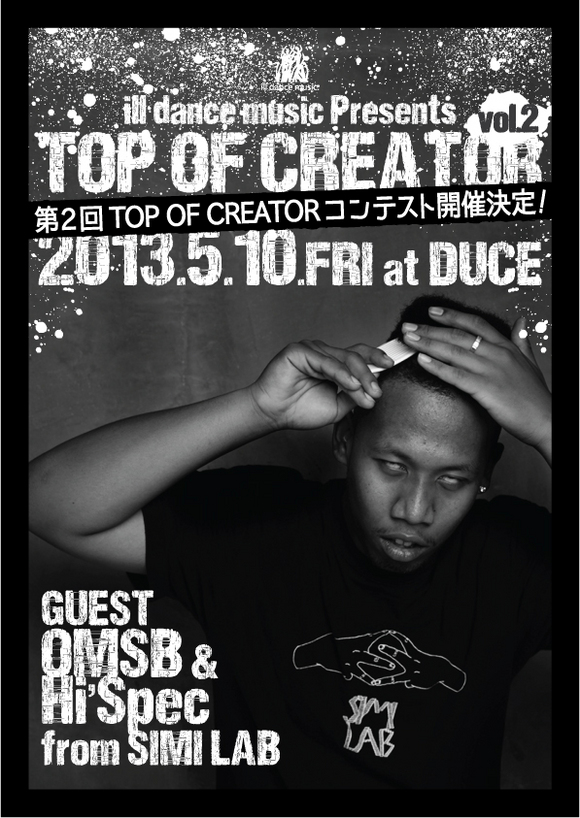 CLICK TO ENLARGE
| | |
| --- | --- |
| ●Date | 2013.5.10 (金) |
| ●Place | DUCE (札幌) |
| ●Start | 22:00 |
| ●Charge | ADV : 2,000円 DOOR : 3,000円 |
GUEST
OMSB & Hi'Spec from SIMI LAB

LIVE
READER AND SUE / ill dance music.
McBRAVAS / Triumph Records
YAS I AM / Chocolate Factory
KAI / Triumph Records
and more special!!!

DJ
DJ KEN HALT. DJ MASA DJ WHITEY JAP

T.O.C challengers
OMSB for SIMILAB
Hi'Spec for SIMILAB
DJ TAMA for SPC
HALT. for MIC JACK PRODUCTION
DJ HISAYA for SHIFT RECORD
sofheso for qodibop
BIJYU for FlagShip Recordings
LAZY SIMON for FlagShip Recordings
Jazadocument for X-DOPE ENT.

LOUNGE DJ
DJ DEE DJ MONSTER and more special!!!